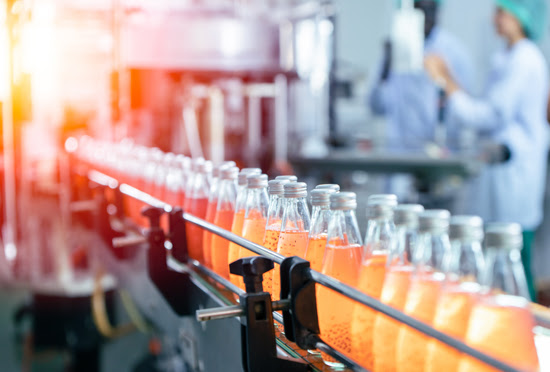 Before expanding to North America a decade ago, ELGi earned decades of experience on the international market. With a product range spanning over 400 compressed air products, the company works with many of the biggest food and beverage processors in the world, and has been rapidly expanding these efforts from its U.S. base in Charlotte, North Carolina.
Anvar Varadaraj, President of ELGi North America, shares insight on how oil-free air compressors are crucial to improving air quality in Food and Beverage operations, reducing the amount of oil droplets that make it into food supplies, thereby increasing product quality and comply with FDA regulations for food and beverage industry.
Q. How important is air compressor technology to the food and beverage industry?
Varadaraj: The food and beverage industry in the US is a large and growing industry with $281.14 billion worth in 2021 and predicted to grow at 9.5% between 2021 and 2028. Compressed air is often called the "Fourth Utility" after water, gas, and electricity. Without compressed air, Food and beverage companies could not effectively prepare the final products for consumers. A few examples of this include the actuation of conveyors, cleaning storage bottles, and actuation of pneumatic cylinders in the food processing lines. Compressed air is also used in sorting, moving, freezing, mixing, packaging, and transportation.
One of the most common applications for food-grade air compressors is as a part of the packaging process to force air into canned goods or inject air into vacuum-sealed bags. They are also used in mixing products, dispensing liquid, carbonizing beverages, and freezing products, among other applications. In addition, some wine and beer production lines also use compressed air in the aeration and fermentation process.
Food and beverage industry is heavily regulated in the US. Some of the popular regulations in the US that apply to food and beverage industry equipment are Food and Drug Administration (FDA), US Department of Agriculture (USDA), National Sanitation Foundation (NSF), 3-A Sanitary Standards, among many others. The food and beverage indsurty must cope with increasingly demanding regulatory challenges and ensuring food production facilties meet with the requirements.
Q. What is "quality of air" and how does it affect food and beverage production?
Varadaraj: To talk about the quality of compressed air, it is important that we understand the three most commonly found impurities in compressed air: dust particles, moisture and oil. The purity of compressed air is measured according to ISO8573, an international standard that specifies purity classes of particles, water and oil in a compressed air system. For example, typical air quality for the food and beverage industry must reach class 1 purity for particles, class 3 purity for water, and class 0 purity for oil.
Typically, applications that require class 0 purity for oil also have stringent quality requirements for particles and moisture; hence, compressed air with class 0 quality is considered the highest degree of purity in the industry. The only reliable way to consistently provide class 0 quality compressed air is to choose air compressors that do not use oil in their compression chamber — what we call "oil-free compressors."
Q. Why are oil-free air compressors vital for food and beverage production?
Varadaraj: While dust particles and moisture in compressed air can be controlled by using downstream dust filters and dryers respectively, controlling oil in compressed air presents its own set of challenges for food and beverage manufacturers. A general misconception is that oil-free can be achieved by using a series of downstream filters to filter out oil particles. This solution might seem to meet the requirement in theory but could lead to a series of consequences, including oil passing through the filter, decreasing filter age and efficiency time, filter rupture and so on.There is no feasible solution to detect oil carry-over in a live compressed air system, so a manufacturer would not notice the issue until after the damage has already been done. Oil traces that reach the equipment could damage them beyond repair.
For food-grade air compressors directly in contact with food products, oil contamination would damage the products completely. The penalty of having oil in the system or food product can range from a huge fine to legal liabilities and lawsuits. Food and beverage businesses are starting to make the shift to implementing oil-free air compressors to avoid these risks.

The only reliable way to consistently provide class 0 quality compressed air is to choose oil-free compressors
Q. Are there any examples of how oil-free compressors have aided companies in these efforts?
Varadaraj: Many food and beverage producers are utilizing oil-free air compressors in their daily operations. Take one organic winemaker in France as an example. It utilizes the ELGi AB Series oil-free air compressors that provides disruptive benefits in terms of efficiency, reliability and air quality. For a premium winemaker, it is crucial to ensure the compressed air used is of the highest quality to avoid potential contamination. The oil-free compressors deliver class 0 quality nitrogen that is used during the blanketing process and it prevents variations in taste or color. Since installing the ELGi AB series oil-free compressors, the compressor has performed flawlessly and helped produce the world-famous French red wine. We also have several other case studies upon request.
Q. Do oil-free air compressors provide any other benefits to food and beverage production?
Varadaraj: Aside from providing class 0 quality compressed air, oil-free compressors have many significant advantages over oil-flooded air compressors. Firstly, oil-free compressors can help food and beverage producers save costs. An oil-free compressed air system does not require downstream oil filters, which reduces initial installation cost and the cost of replacement of filters, and it removes unnecessary pressure drops in the compressed air system. System pressure can be maintained to the application pressure requirement, which results in energy savings.
In addition, the condensate that comes out of an oil-free air compressor can be safely disposed of without further treatment. This saves money for the installation and maintenance of condensate treatment and disposal equipment, making oil-free air compressors both a cost-efficient and sustainable solution.
About the author
ANVAR JAY VARADARAJ

President, ELGi North America Anvar Jay Varadaraj serves as the President of ELGi North America and serves on the Board of Directors at ELGi Equipments Limited, the parent organization of ELGi North America.